Miniature Building Authority's new items are on the water! They are scheduled to arrive in Tampa onMarch 7th and should be to the warehouse by the 10 or 11th We will start shipping all pre-orders as soon as possible. For those who are not familiar with our new products for this year, here is the list: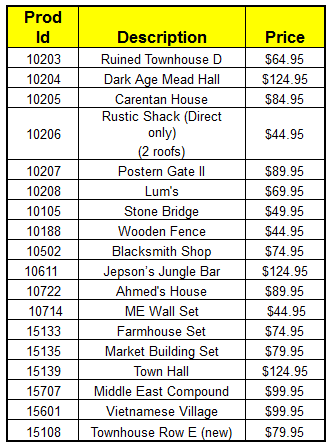 We will also have restocks arriving on two Direct Terrain pieces, DIR-024 Hesco Barriers and DIR-023 T-walls.
To everyone: We thank you for your support and your patience. We are looking forward to getting these new items to you as quickly as possible. Also, stay tuned as 2014 is going to be a fantastic year for exciting activities here at Miniature Building Authority. The big item this year is our Castle Kickstarter. This will be very cool with new items for our castle system that will complement all the items you already own.
---