Many customers have been asking for the updated information and we now have them for you to easily download from the internet.
The collectors guide is a great way for you to keep track of your collections, see the status on our products, and gives you information on when they were produced and how many were produced.
The 2014 Catalog lists all of our current products with pictures. Also the back half of the catalog is our ever growing list of Direct Terrain pieces. Two fun products that will assist you with your decisions and collecting.
---
Spring Package Deals!
This week I am bringing you two more Special Deal packages Our first is a 15mm Middle Eastern Package. This includes our current product line up plus the brand new 15707 Middle Eastern Compound. This is a fantastic and useful piece. It comes with four buildings that you can either put together to make the inclosed compound or when you add the other pieces make a nice 15mm middle eastern town. Our second deal this week is a 28mm Dark Age Package. Dark Age gaming is becoming very popular and this will give you a great village to game around. This includes the brand new Mead Hall for all of those important meetings that the chieftain must attend and a great building to defend. As with all of our Miniature Building Authority Terrain all the items in both specials are pre-painted and pre-assembled and ready to use in your next game. No more projects.
Deal-03, 15mm Middle Eastern Special Deal Package
This package Deal includes 15707 Middle Eastern Compound, 15702 Domed Building Set, 15703 Middle Eastern Town Set C, and 15118 Wall and Fountain set. Then you get the 15706 Middle Eastern Town Set D for free. This is a $34.95 value.
Price: $204.80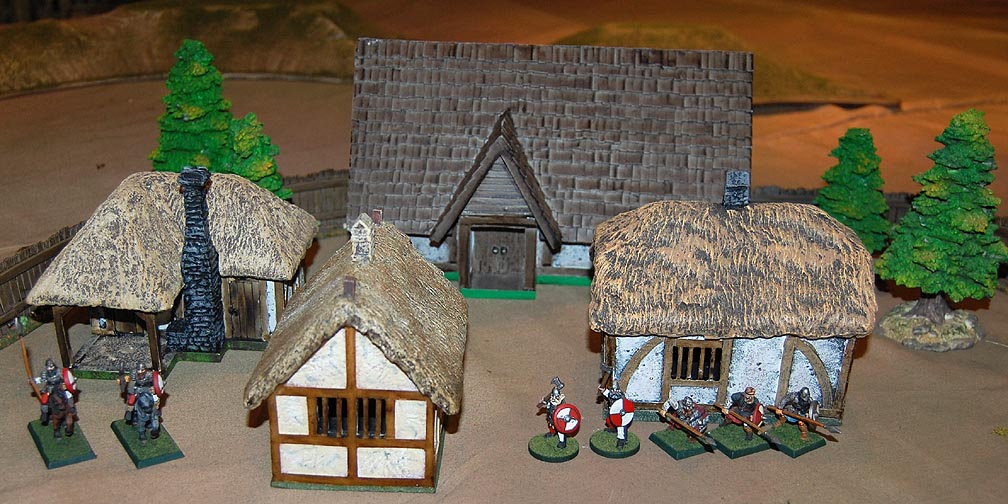 Deal-04, 28mm Dark Age Special Deal Package
This package Deal includes 10204 Mead Hall, 10172 Dark Age Cottage, 10190 Dark Age Smithy, 2 x 10188 Wooden Fence Sets, 10131 Tree set (4). Then you get the 10197 Dark Age Weavers house for free. This is a $64.95 value.
Price $334.70
---
MBA is now working with a great terrain painter, Denise Haynes. She is extremely talented and is working with us to provide you cool new custom painted Direct Terrain and MBA items for your collections.

Each item is a unique custom painted item that has limited quantities. The Stone Cottage, Large Shanty and Small Shanty are all painted and ready to go.

Be the first in your gaming group to check these out. Again there are limited quantities so donít delay.

Next year we will have even more products available as well.
---
---
Makers of Fine Resin Cast, Pre-Painted Modular Gaming Buildings.
We build and sell resin cast pre-painted miniature buildings that are ready to use out of the box. That's right! No longer do you need to paint your building - the work has already been done for you.
These are high quality buildings that can be used in gaming, in Christmas Villages, and just to collect. Our buildings are unique in that their roofs lift off so that you can view and use the interior, as well as at times the flooring between levels is removable so you can really get "into" your building.